Export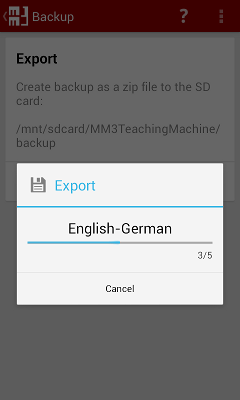 Create a backup as a ZIP file. The file is stored on the SD card in the folder: /SD-Card/​MM3TeachingMachine/backup/. The file names is the current date. Besides, the learning progress and the settings are also stored.
Note
Please, copy the backup file, in addition, to another medium.
Backup folder on internal or external SD card can be changed in the menu Settings / Storage for Backup.
Import
All backup are listed.
Select the backup to be imported. If the backup includes studying content as well as settings, the whole backup or the desired part can be selected.
Furthermore you can choose by the context menu with a long press on a backup:
Rename

Renaming the backup.

Delete

Deleting the backup.