Structure your studying contents in subjects and lessons. Every lesson includes cards with the studying contents. Every card contains a question and the accompanying answer.
Many vocabulary are offered free of charge as a CSV file on the Internet, therefore the TeachingMachine uses this format for the import and export.
The CSV file must consist at least of two columns for the question and the answer. Only the rows are imported where the cell for question and answer is not empty. If the CSV file contains column headings on line 1, these must not exist for each column.
Flashcards: The CSV file can contain questions&answers as well as advices.
You can interactively set the CSV file parameters at the import. The imported data and any inconsistencies are displayed.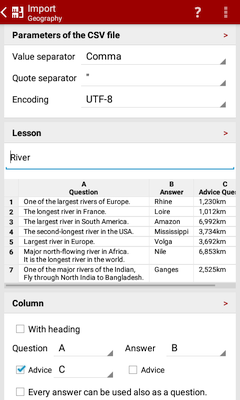 Providing a vocabulary

Use

Google Drive™

Activate at the import of a vocabulary (spreadsheet in the format CSV, Microsoft Excel or OpenOffice.org Calc) into Google Drive:
"Convert to the corresponding Google Docs format."

Alternatively, you create the vocabulary directly as a spreadsheet in Google Drive.

Use

SD Card

Copy the lesson (CSV file) on your phone.

Select the subject of the lesson in your TeachingMachine.
Select over the menu or action bar

Import

.
Select:

Google Drive

or

SD Card

Select the CSV file to be imported with the file explorer.
Select the parameters of the CSV file.
Check the setting with the displayed lines of the CSV file.
Indicate whether the lesson has a line as a heading in the CSV file.
Set the column of the question and answer.
Flashcards: If the lesson contains tips, select advice for question or/and answer. Then select the appropriate column.
Indicate whether every answer can be used also as a question.
E.g. vocabulary can be learned in the two directions.